A look back at the exhibition by Natalia Simonenko and Andreas Futter,
"Colour & Form"
What has been your journey so far?
Andreas
Originally from Germany, I studied painting and graphic design at the Academy of Fine Arts in Stuttgart, Germany. However, I came to sculpture and bronze independently of my studies, and this is now my main focus!
In addition to my own work, I have also received various commissions for public spaces, i.e. the enlargement of bronze works by 2-3 or even 6 metres. These projects involve challenges and difficulties that I am happy to face, they challenge me! Among other things, this is one of the reasons why I am an artist, I like to find solutions to problems that arise, and in the end, learn something as well. It's always fascinating to discover the universal language of art!
Natalia
Originally from Russia, I currently live in Stuttgart, Germany. I studied at the I.A. Herzen Pedagogical Institute of Graphic Arts and at the Ilya Repin Academy of Arts in St. Petersburg. My works are a mixture of impressionism and realism.
I exhibit in various countries and I really enjoy presenting my work in France. I have already exhibited twice in Paris and I thought it would be very interesting to present my work in Lyon.
Why did you want to exhibit at L'Alcôve?
Natalia
I found L'Alcôve gallery on the Internet, I really liked the pictures of the gallery: a nice, warm and aesthetic exhibition space.
Afterwards, I asked my friend Andreas if he would like to do an exhibition together at L'Alcôve and he was immediately very enthusiastic!
Andreas
My friend Natasha Simonenko, with whom I have participated in various group exhibitions, suggested that I exhibit at L'Alcôve.  After seeing some pictures of the gallery, I accepted with pleasure! Lyon is a very beautiful city, I am very happy to be able to exhibit in a Lyon gallery today.
Why did you choose the name "Colour & Form" for your exhibition?
Natalia
The word "colour" refers to my paintings. I love colour! For me, life is colourful and that's why my art is too. Through colours I can tell my life and how I feel. As for the word "Form", it refers to Andreas' bronze statues.
Andreas, what are your sources of inspiration for this exhibition?
The people I meet inspire me on a daily basis.
I have exhibited my work in Switzerland, Hungary, Italy, Spain and now in France at the Alcove Gallery. Regardless of the country, I notice that the situations of my statutes are understood by everyone. This is not new, but I would like to emphasize that human beings connect us, even more so in our time. Human relationships are universal and speak to us all.
I really appreciate it when people understand the deep messages behind my work. But it doesn't matter if the messages are not always perceived, my figurines remain funny, humorous statuses that carry positive energy! Art can work as a mediator between people and I think that's fabulous.
Andreas, we often see the king character in your sculptures, why is that?
The king is of course funny and ironic, but also symbolic. When you think of a king, you think of power and respect, which my kings tend not to convey. On closer inspection, they are often dependent on the help of others. Indeed, each of us can be that king. After all, we all wear an imaginary crown. We are all masters of our own lives. We all have to find the right balance between "taking ourselves seriously" and "letting go". We should not put ourselves down, but maybe also not take ourselves too seriously.
Natalia, what impressions/feelings do you want to convey through your work?
Through my works, I wanted to express my feelings about the last two years (2020 to 2022). This period was complicated for everyone, we experienced several upheavals such as Covid-19, midlife, isolation and then the war in Ukraine. In my paintings, I wanted to convey the sadness of this period, as well as the hope to be strong and to live beautiful moments afterwards. I wanted to contrast our fragility with our strength. We are both fragile and sensitive but also strong and persevering. We are able to see the beauty of the world through the small things of everyday life: sunlight, flowers, etc.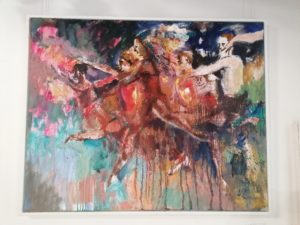 For example, in the painting "Le Saut", the star dancers convey this notion of freedom and motivation to remain optimistic.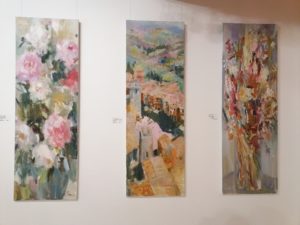 In my landscape paintings, which are painted lengthwise, I wanted to increase the effect of length and height to remind us that we are small in comparison to the immensity of nature. We must remain attentive to take care of it and thus save humanity.
What are your plans for the future?
Andreas
Even though times are getting significantly more difficult, I would like to continue to practice my art, to paint and draw. I would also like to teach art in courses and share my experience.
Natalia
I will continue to do what I am passionate about, painting and sharing my paintings at exhibitions!
Andreas
I am very happy to exhibit at the Gallery L'Alcôve, to have met many nice people and I am curious to see if something else will come out of it.
Natalia
Thank you for the people who will read this interview. I hope you enjoy our exhibition "Colour & Form". It is still available until October 9th at the gallery L'Alcôve!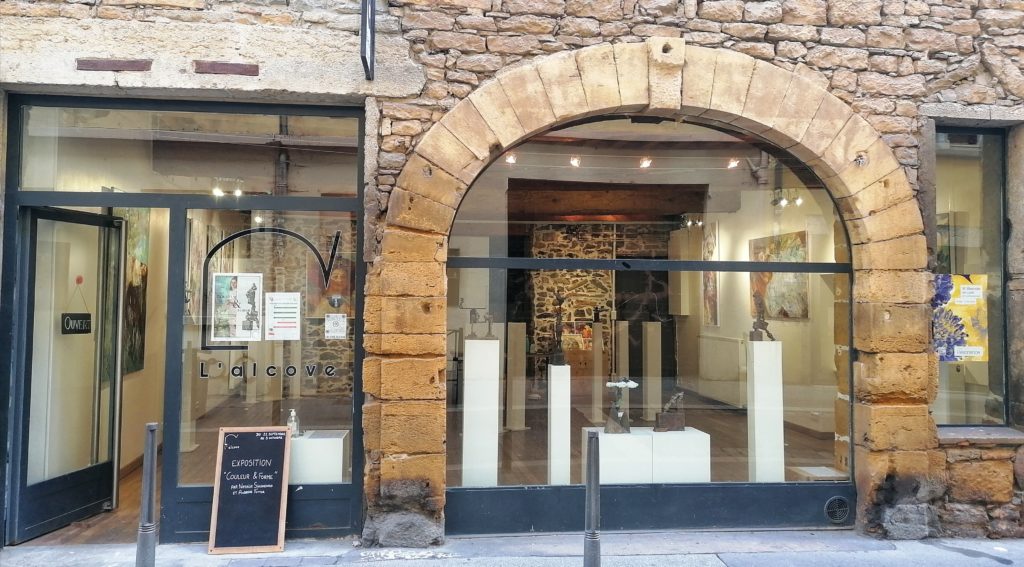 Exhibition "Infinite" from August 30th to September 18th 2022 at the gallery L'Alcôve