What has been your journey so far?
It started when I was quite young, I was taking amateur art classes with the MJC. I did a little bit of everything at that time. After the baccalaureate, I turned to psychology and I left art aside for a while. In the middle of my studies, I felt the need to reconnect with art.
I am quite sensitive to beauty, I have always liked to collect images that I liked. And one evening after a rather difficult experience, I started to glue these images together and this is where my great love affair with collage began.
How did you get the idea to specialise in collage?
With collage there are so many possibilities, I feel like there are no limits. I never really had the patience to learn how to draw well and collage allows me to free myself from techniques and rules.
On a more personal level, there is also the symbolism of putting the pieces back together. Often, people take up collage after difficult experiences. It's a bit of a metaphor for trauma, we've been modified by an experience, but it can bring us new perspectives, how something that is torn and damaged can be transformed and sublimated. It's really the idea of finding a certain beauty in the aftermath, the brokenness. Collage is about recreating beauty. 
Why do you mainly use recycled materials?
The pleasure I get from collage is really in poking around. I get caught up in the colours, images and textures. I take everything I like and put it together without really having a fixed idea at the start. The idea of using recycled materials is part of this process. In the long term, I would love to use recycled materials too.
I also like the idea that an object that may seem unattractive or damaged can be transformed and sublimated in its own way. An object that was originally left behind can have its place in a work. It's this notion of giving new life to something that we no longer use, like an old cassette, for example.
Why the name "Points de suspension" for the exhibition?
I really wanted to express this idea of being put on hold, of stopping before the end, of this point of tension that is both exciting and frightening. Those three little dots that represent all the possibilities as well as the consequences that can arise from them. 
What are your sources of inspiration for this exhibition?
There are many, from music, to film, to cartoons and pop culture. I often realise these influences after the fact, it's really something that I can't say. Often my references are intertwined, for example, the birds that can be seen in my collages, which can refer to my interest in them, but also to the film of Hitchcock.
I really like this idea of movement, there are many dancers in my work but it is also due to my personal experience. Recently, I like to incorporate landscapes and nature in my collages.
I often say this but I really advise everyone to find their own little system of expression, their own thing. Collage is quite accessible to everyone because it doesn't really require a perfect technique. I advise everyone to try it!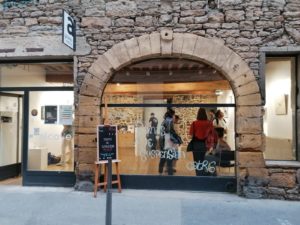 Exhibition "Points de suspension" from 1st to 19th June 2022 at the gallery L'Alcôve