"Why this name for the exhibition?
With this exhibition name, I wanted to represent the immensity of the ocean, without any reference point. When you're on the open sea, you can't see the coastline; I wanted to convey this feeling of total disorientation when you're on the open sea.
You have created a new collection on the theme of the sea. Can you tell us a little more about it? What inspired you?
This exhibition was inspired by my life when I was sailing the seas. I wanted to give meaning to my work by representing my life story, at least 12 years of my life. It is a representation of what I saw through the porthole of the boat.
Where did the idea of collaborating with Roxanne Macaudière come from?
To tell you the little story, I discovered the piano after I stopped sailing on boats. At that time, I was renting a room in a house in San Francisco in the United States. In this house, there was a "magical" grand piano. Magical in its appearance, but especially when I played, I had the impression that the piano was playing for me.
When I arrived in Lyon 2 years ago, I bought a piano and started to learn to play. A friend of mine then helped me to write down musical notes, as I wanted to compose a piece, and then paint the scores.
As time went by, I met Roxane, we exchanged on Art and we realised that my paintings were in the same spirit as her music. It was also a good timing because she was about to release her first EP "Arborescence" at the same time. And this is how our artistic collaboration was born!
What technique do you use for these works?
The technique used is the injection of acrylic paint with a syringe.
Why use syringes? Where did this idea come from?
In San Francisco, I went to live in the mountains. At that time, I rented a room from a woman biologist. In her garage, she had a whole box of expired syringes that she wanted to throw away. I had the idea to use them as an artistic tool by putting paint on them. So I started experimenting and then continued in Lyon.
For this technique, I work flat on a work surface.
Do you have a particular anecdote from your travels at sea that inspired this exhibition?
I have an anecdote about the making of my painting "Abyss". When the sailing boat was moving, I was looking at the ocean through a porthole. I would fall asleep dreaming of the ocean abyss in the shape of a bubble, exactly the same shape as the porthole. It was from these dreams that I made this work.
Thank you for taking the time to read this interview. I hope it has inspired you to discover my exhibition "Pleine mer", available until July 10th 2022 at L'Alcôve.
I will be happy to see you at the concerts of Roxane Macaudière which will take place at L'Alcôve on July 1st, 2nd, 9th at 7pm and on July 10th at 6pm to celebrate the end of this exhibition!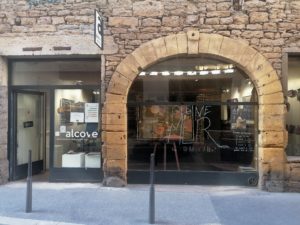 Exhibition "Pleine mer" from June 22 to July 10, 2022 at L'Alcôve gallery