A look back at the Draz exhibition,
"Infinite"
What has been your background so far? And what made you want to become a photographer?
I'm self-taught and it was street photography that formed me. I've always been an observer and photography allows me to keep fragments of suspended images. I particularly like the idea of being able to freely express the way you see the world. To show what people don't take the time to look at. Maybe that's why my photos are far from reality.
This photo from my early days is a perfect example: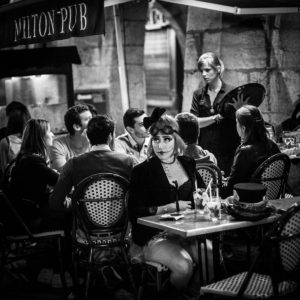 Why did you want to exhibit at L'Alcôve?
To be honest I didn't know the gallery before I applied, but when I discovered the pictures of the place on the net, I found the place really warm and classy. I was really happy that we could work together! The fact that I can meet the artists who work in the studio all year round is also very enriching. I hope this will be the beginning of a beautiful story!
Why the name "Infinite" for the exhibition?
There are two meanings to it: One in relation to the images themselves, which are blurred, which have no real precise contours and therefore no end in themselves; and the other meaning is that the exhibition speaks of cycles, of stories specific to each person, which start from the heart and work their way towards happiness. These cycles are recurrent, they are phases, passages, they never really stop. For the "e" at the end of the word "infinite" I let you make your own idea…
What are your sources of inspiration for this exhibition?
Initially it was a person, Jade, a model I met while making my first book, Intimacy. We enjoyed working with each other and so I created this series for her, inspired by her background and my attraction for years to the aesthetic of calligraphy.
Calligraphy is very present here. What links it to photography?
It is the eye. In both cases it is the vision that guides the progression. My Chinese calligraphy teacher used to ask me to repeat a simple sign about fifty times on a sheet of paper, and then I had to recognise which sign was the best. In the same way, in photography, it is necessary to always keep a close eye on your photographs to constantly improve all the details. Then you can say that the two practices respond well to each other, I am not the first photographer to work on this subject, it is inspiring.
Was the blurred look of the photograph achieved during the shooting or through retouching?
This special look is achieved during the shooting, I wanted to be able to take a picture of what I saw. I won't tell you how it's done, just because it's so simple that it would break the spell. In post-production I only removed a few marks on the edges to make it as clean as possible.
What are your plans for the future?
I'm going back to my village to exhibit from November 14th to 20th, with 7 other artists. I will be working on cyanotypes, an old process of development by UV light which gives amazing results and a blue colour which fascinates me. In this exhibition I will talk about water. I will invite people to an imaginary country inspired by my childhood on the Mediterranean and my current life on the shores of Lake Annecy.
I would just like to thank Adrien A. Ribet (resident artist of L'Alcôve) who was present to help me with the installation of the exhibition; Myriam and Gaétane for the communication, as well as the Gallery and its artists for welcoming me so kindly. I hope to come back soon with something else to offer you in another style!
Exhibition "Infinite" from August 30th to September 18th 2022 at the gallery L'Alcôve